We spent three nights at the Big Dominguez campground - got back yesterday. Mostly it was a trip with hopes of Andrew finding and killing his spring turkey. The girls and I just went along for the ride. Sadly, we are still turkeyless, but we did have a pretty great time.
Andrew left early each morning on the four wheeler, so it was up to the girls and I to take care of things and entertain ourselves until a little bit after lunch time, when he'd return. The first morning was COLD. Like, ice on the tent, frozen juice on the table, couldn't feel my toes for four hours cold. We got up, I made coffee and cocoa, and we sat in the truck for an hour until we were all toasty warm and the sun was up and melting the layer of frost on everything. The other nights were cool, but it did get warmer each night. And after that first morning, the girls slept in till nearly 9:00, giving me plenty of time to have some coffee and relax a little.
We spent our mornings playing in the field by the camp site, exploring Big Dominguez Creek, playing in the little stream nearby, and just hanging out. The girls got filthy but they had so much fun. Chloe found different bugs that she promptly named and began speaking to them as if they were cuddly little teddy bears. Cora started getting over her fear of bugs - a fly can land on her now without her completely losing her composure.
Night time was a little rough - neither kid wanted to go to bed. Cora cried and cried the first night, and never did sleep very well. We started going to bed all at the same time and I put Cora with Chloe instead of with Andrew and I - that seemed to work. Chloe woke up crying the second night for some unexplained reason, but the third night everyone slept! We just need to work out the kinks and get them used to the routine again.
So all in all, we had a good time. Sitting around at a camp site without my husband for hours at a time wasn't as bad as i thought it would be, and the girls had such a good time that it was worth it.
"Hot! Hot!"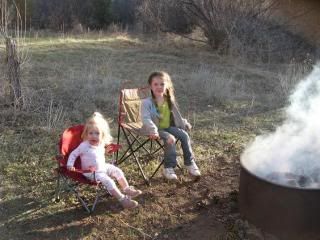 Jumping on the 'bed' in the tent.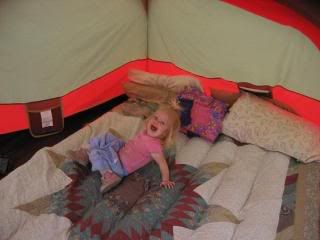 Exploring the stream, playing in the mud.
I can't tell you how many sticks were tossed over on one side and then waited for on the other side as they floated past. She would've sat there for hours if I'd have let her, just watching sticks sail away.
Coloring in the sunset
My beloved hunter :o)
Baby taking a bath in a dish pan.
Chloe insisted on bringing this hat. It was her sun hat, so she didn't get burned, she said. It's from the dress up box. Isn't it grand?
More exploring of the stream. Izzy was totally in her element. Such a good dog. She slept on the girls' feet at night and kept them nice and warm (both kids were sweaty each morning when they woke up. Apparently 24 degrees doesn't affect them as much.)
This picture just encompasses Chloe so beautifully. She's got a great personality.
Mom says I can't get my shoes muddy... but I really want to play in the mud. The solution?
Dinner time
I had plenty of time to sit and knit... so much so that I finished a pair of socks in under a week, record time for me.
Yarn: Red Heart Heart & Sole, two balls; size 2 needles,
River Rapids socks
pattern. (link is a .pdf)
So that's that. Now I've got a pretty spectacular mess to clean up, about fifteen loads of laundry, and lots of catching up to do. But it was worth it. :o)