I tried to post all this a day or two ago, but I got sick of fighting with Blogger. So here it is, a little late.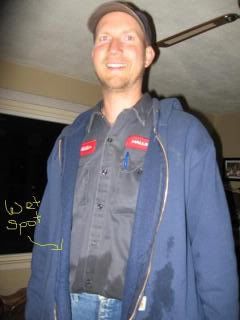 April Fool's.
(Thanks to Deb and Meg for the idea!)
===
We went for a drive yesterday and walked around a bit in Escalante Canyon, an hour or so from home. I'm so thankful we can just get in the truck and go somewhere cool... so many people in the world don't have the beauty of nature nearly so accessible as we do here in our happy little Colorado valley.
Stopped at the Walker Cabin, built in 1911, to have a look.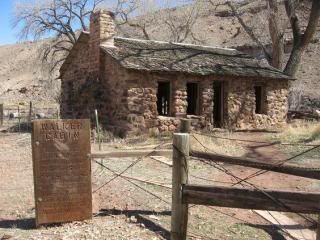 Walked a bit, collected some pinecones for a craft/nature project later this week (if the rain stops.) Thanks to
Katey
, I'm quite sold on the Charlotte Mason method of teaching, which includes "nature study" as part of a child's education each week. So this is how we did school today.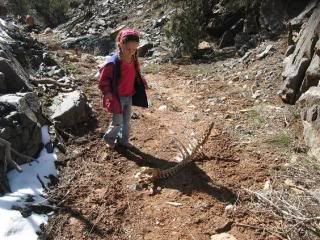 On the way there I finished a
hat
I've been working on:
And I took a picture of Cora in her Christmas sweater (finally).
And here she is, dressed as the Sheriff in Chloe's play the other day, 'cuz it was cute:
Hopefully Photobucket doesn't pull my photo. Apparently pictures of babies in diapers is against their terms of service. Awesome.