I use bribery. :o) Like when we went camping last week, I told Chloe that if she could refrain from using such phrases as "I'm bored", "What is there to do?", "There's no one to play with me" or any similar phrase, I'd take her to Chuck E Cheese when we got back home. It worked like a charm - she had a couple of slip-ups but corrected herself immediately. And so, I took the girls to Chuck E Cheese. That place is, in general, the bane of my existence. Hot, crowded, with dozens of poorly behaved children everywhere, running around screaming, and their cranky parents snapping at them and yelling at them.
But honestly, we had a pretty good time. We just went before lunch time on a week day, and it wasn't overly crowded. Cora was amazingly good, and enjoyed it as much as Chloe did!
Concentrating so hard....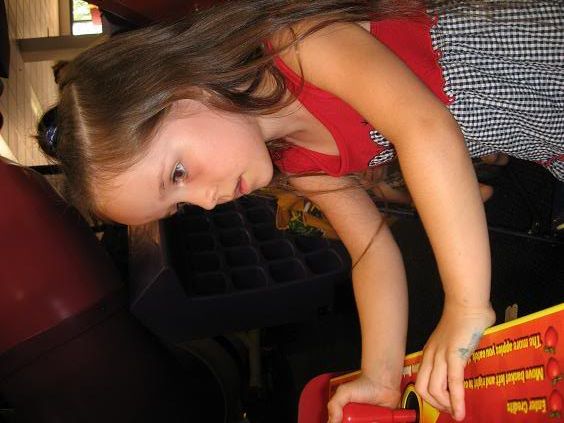 Momma getting a little skee-ball action. I love skee-ball in an unnatural sort of way. I could play for hours.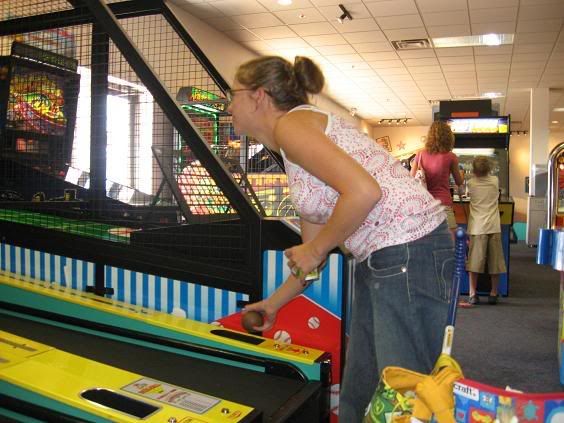 And a quick shot of Chloe at Farmer's Market, sitting down to eat her cotton candy and watch one of the percussion bands.