I've been holding off posting their Halloween costumes, but I suppose it's finally time. :o) Yesterday we hosted a Halloween party for all of Chloe's friends, and they got all dressed up.
Chloe as Rapunzel
That's her "princess smile". I can't convince her to do anything else, she thinks it makes her look beautiful. :oP
The dress is a Simplicity pattern made from sparkly satin. She picked out everything. It was an absolute blast to make.
And here's Cora: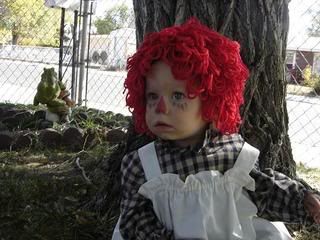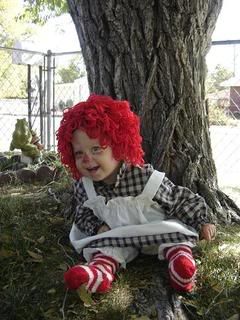 :o) I think she's just about the cutest thing I've ever seen. I couldn't stop squealing with delight every time I looked at her.
I made the wig - lots and lots of red yarn and what felt like several hours of toiling with straight pins and the sewing machine. The stockings are hand knitted and her favorite part of the costume.
I love making Halloween costumes.
And a few pictures from the party:
"Bobbing" for apples - you tie the apples to strings hanging from the tree so there's not all the yucky shared germs and water mess from the real version. It was just as much fun, I think.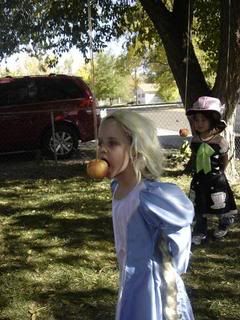 Decorating sugar cookies
This is Cora and her little friend Dalton. They have a love/hate relationship. LOL They always fight over sippy cups. By the end of the party, Dalton had a red spot on his nose from Cora's make-up. We're not sure if they were kissing, or what!
The party-goers in their costumes.