Now that she's received them, I can post pictures of the things I made for my friend Danielle for her baby boy, due in November.
Soaker, made with Paton's SWS, a soy/wool blend that is my favorite for soakers. Knitting in boy colors was kinda fun.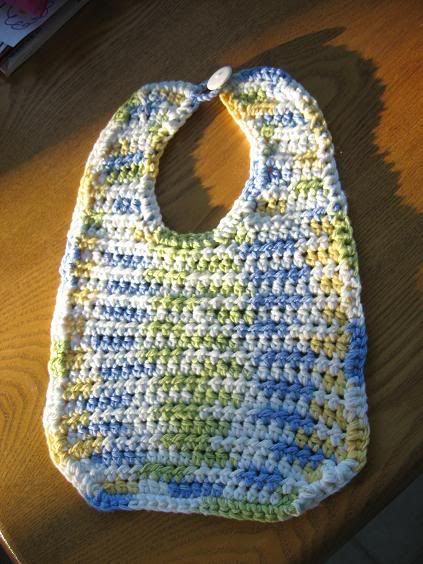 A crochet bib, made with Lily Sugar & Cream. Someone made me a couple of these bibs for Cora and they are my favorites. I wanted to share the fun of using crocheted bibs.
I also made him a cute little fleece bunting with monkeys on it, but I either didn't take a picture of it, or can't find it.
====
Yesterday was a real Saturday. No school, just lazing around and relaxing. I did a lot of knitting, Chloe played more computer games than she's ever allowed to, and Cora just hung out and played with us. It was so nice, and much needed. With the weather cooling off, we hung out outside for awhile, the girls played in the water while I working on my knitting.
===
I weighed Cora last night. 18 pounds even. A week or so ago, she was 17 pounds, 8 ounces. It's not just my imagination, she really is eating a lot!
===
I thought the sock monster that lives under my dryer was particularly hungry lately. Then I realized that no, Chloe's just been stealing the baby's pajamas to use on her baby dolls.
===
Phantom Husband should be home today. We haven't seen him since Wednesday evening. I'm hoping I can convince him to get a few things done around here this afternoon since he'll be on another long week starting tomorrow.
===