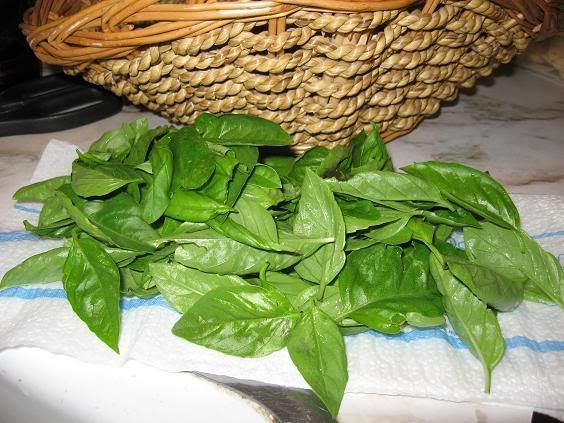 Anyone else out there absolutely love fresh basil? I grew it last year and really didn't know what to do with it. Other than a few batches of spaghetti sauce, most of it went to waste. This year, I discovered pesto. :o)
I planted two plants this year, and two more volunteers sprouted up in a flower pot. From those I get about two cups every other week, enough for this recipe:
2 cups fresh basil, packed
2 cloves fresh organic garlic
1/2 cup organic raw pine nuts
1/2 cup extra virgin cold-pressed olive oil
1/2 cup fresh grated parmesan cheese
Put everything in the blender except the cheese, process until creamy. Add the cheese and pulse just to blend. Makes about 1 1/2 cups
Sooooo good. 1/2 cup is enough for a pasta dinner for Andrew and I. I usually divide it in two and freeze them - what's left after dinner I spread on sourdough or french bread and snack.
If you have cherry tomatoes, try this: Cut just the tops off the tomatoes and scoop out the pulp and seeds, leaving little cups. Fill the tomato "cups" with pesto. Serve as an appetizer or atop a salad. I did it with grape tomatoes and they were great, but more labor intensive.
I'm all about the pesto. Hopefully I'll get a couple more batches before my plants bolt so we'll have pesto well into winter.