Some old pictures I'm including on my parents' photo memory card...
My mother LOVED to dress me up like a baby doll.
My brother Benny, and I, probably about 1985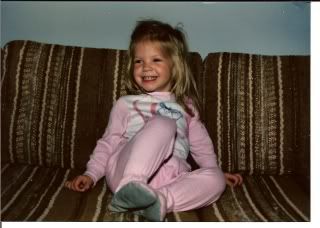 One of my mom's favorite pictures of me...
That one was in middle school, I think I was 12.
I've scanned something like 40 family pictures of all us kids and my parents so far. I need to get over there and get more photos, but it's hard to do without them knowing! My parents did some neat stuff when they were a little younger, going to Jamaica, Hong Kong, Hawaii, and several cruises. I want to find those photos and get them scanned too. Thankfully, my mom did a good job back then of putting photos into albums, and I know where to find them.
===
So what's with little babies that don't sleep? Oy. Cora was up at 4:30 yesterday morning, and proceeded to whine and hang on my skirt all day long, except for the two hours Ashley and I took the kids to KidzPlex. Today, she was up at five, but is still just laying in bed drinking her juice. I hope she's happier today than she was yesterday. Yesterday was rough. I was SO done by the end of the day. :o( I hate feeling that way. I always say though that I like babies, when they are helpless and sweet, and then I like them again when they can be reasoned with, about the age of three. This in-between stage when they are walking and starting to talk but really pushing their boundaries, it makes me crazy. There are fun times, to be sure, but it's not my favorite age.
And did I mention Miss Cora is
finally
walking? She's been able to for a few months now, but she's doing it all the time now, has been for about three days. It's hilarious, she looks like a drunk, she's totally wobbly still. :o) It's fun to watch her try and keep up with her sister.
Thankfully, it seems like now that Cora is getting into this difficult age, Chloe is making her way into an easier age. She's been SO good lately. She's been helping around the house willingly, even offering to. She's been so patient with her baby sister and is always trying to help with her. She's had a great attitude lately and hasn't been talking back or pouting and such like she was there for awhile. I'm crossing my fingers that six is going to be an easy age.
===
I've officially given up on getting two pairs of socks knitted for my cousins for Christmas. I was getting so stressed out trying to knit for three or four hours each day, and I don't want to be stressed out, so I'm letting it go. I'll give them each a card that says socks are coming, but that they just didn't get done. They're big girls, they can deal with it. :o) I also need to make my little brother a hat, and I would like to at least get that done before Christmas. I'm ready to be done with Christmas knitting. I want to make something that I want to make, instead of things other people want!
I haven't posted FO pics in awhile, and I have lots. I"ll try to remember to take some pictures today. I've got four or five pieces to share, I just hate uploading photos from my camera to the computer.
===
Okay, 'nuff for now. I need to start updating more regularly, I've been terrible lately!