I have a handful of vintage aprons that have been given to me here and there, and I truly love them. At one point they decorated my kitchen wall. Now, I wear them every now and again because they make me feel a little bit like Donna Reed, and I like Donna Reed. Mopping floors and frying bacon is a lot more fun when you get to wear a cute little apron while you do it!
I decided to make myself a new apron.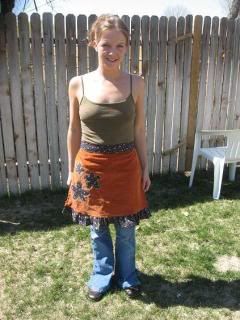 The main fabric is a rusty-orange corduroy that used to be a pair of little boy's pants in (I'm guessing) the 70's. The blue is just some calico scrap that paired well.
While I was searching for apron-making advice on the web, I came across this
essay
written by the
Hillbilly Housewife
, one of my favorite homemakers on the internet. Enjoy!