Sorry Katey... I'm gonna brag some more about the gorgeous Colorado weather we've been having.
These were taken on St. Pat's day - notice the green.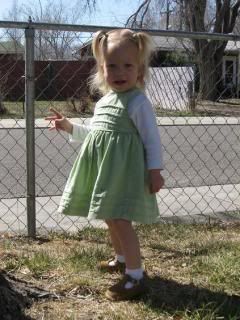 The first spring flowers - my beloved daffodils. I planted 40 bulbs (daffs and tulips) the year we moved in. They've done so well and have multiplied so much!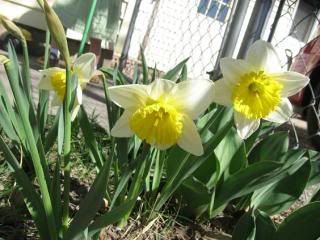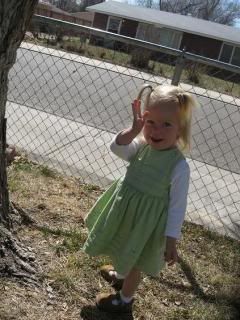 My children, playing with the wading pool. Chloe was actually playing IN it some, too. At 65 degrees, it's way too cold to be playing in a wading pool, but they haven't figured that out yet. Please don't tell them.
Homeschool science: water + dirt = MUD
Notice the little mud splatters all over her? They had a wonderful time.
St. Patrick's Day was an overall great day for us, though it had nothing to do with it being St. Patrick's Day. The girls were so good - they just wanted to play outside all day, which was fine with me! I'd sit out there with them for awhile, then come in and get some things done around the house. I baked cookies, and while I waited for each batch to bake and cool, I laid out on a blanket spread on the lawn and read a book and tanned. I'm totally not the type of girl to just lay out and get a tan. I usually have a great tan because I garden, walk, and do other active things in the sunshine. Of course, I was reading, so it wasn't like I was just laying there. And ya know what? It felt pretty darn great. Every so often a cold, damp little girl would come and snuggle up to my bare legs and make me squeal from the cold and give me goosebumps, sending her into a fit of giggles.
When the mud was over I bathed them both in the tub I'd just cleaned, and I didn't let it get to me. (Not to mention the mud tracked through the house!) Then I fed them warm cookies and milk and we read some stories and hung out until dinner time.
It was a "Mommy Zen" day. I completely balanced "need to get stuff done" with "need to hang out with my kids". I'm not so great at doing that, and it felt good. Now if only I could do it more often!