Better late than never, right? and in no particular order...
Some of our little Hula girls :o) (Chloe, Elizabeth, Tori and Allysa.)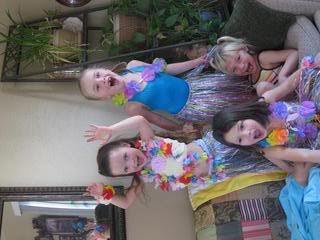 She just couldn't wait for a taste of her cake.
Ashley was as excited about this game as the little girls were, LOL.
They were divided into two teams and did a relay race that involved taking all of the items out of a beach bag (sun hat, sunglasses, towel, flip flops) and putting them all on and racing back and forth across the room. It was a total hit, and could easily be changed up for any party theme.
The limbo... hard to enforce the rules on five and six year olds, but they had a great time with it anyway.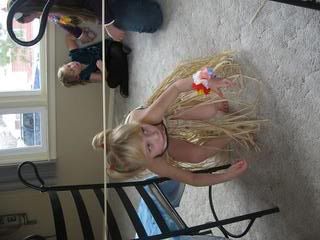 Chloe with her best friend, Tori.
My little Hawaiian princess.
She got some awesome gifts - lots of fun crafty stuff, perfect for her at this age.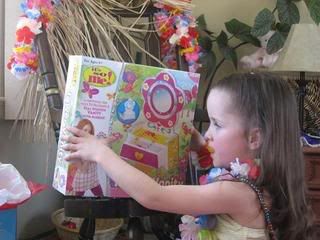 And of course, the Hula Baby - she was so good for the party, and had a ton of fun with the big kids.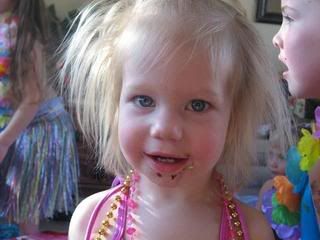 The cake. I made it. :o) As much as I hate decorating cakes, I was pretty happy with the outcome of this one, and Chloe was very pleased with it.
All of the partiers that were dressed up for the event. (Some of the mamas didn't dress up. Party poopers. :oP)
So yeah, the luau theme totally rocked. I'm all for birthday themes that don't involve licensed characters, and we had a blast with this. I saved all the decorations and plan to throw myself and Cora a big luau party in August, completely with tiki torches and a fire pit since it will be outdoors.
===
And a few pictures from her actual birthday. She opened presents first thing in the morning, then her Grammy stopped by with some gifts from family members. After that we packed a lunch and headed to KidzPlex, a local indoor play gym place, with Tori and Ashley and Dalton (Ash's baby boy.) And for dinner that night, Chloe picked Old Chicago's where she got a free giant cookie with a candle in it. It was a pretty great day, I thought.