So we decided after the crazy month we've had, it was time to get away for awhile.
Note to self: "getting away" is not nearly so relaxing with two children.
We truly did have a wonderful time though. We went to Ouray, a couple hours from here, stayed at a hotel instead of the usual camping since it sounded easier with a newborn baby, and we just enjoyed the area for a couple days.
The town of Ouray:
Ouray is known for it's mining at the start of the 20th century as well as it's natural hot springs. We went swimming in the hot springs pool there, and also in the hot springs mountain-side hot tubs that the hotel had. The tubs were neat - kind of like giant wooden barrels filled with hot springs water, up to 108 degrees, and right outside where there were all kinds of birds to watch and even the occasional deer, plus a beautiful rainbow at the end of a rainstorm the first afternoon.
One of the best things to do in the area is four wheeling, so we went for a drive to Clear Lake, some miles outside of Ouray, but it was worth the drive. And we discovered that our baby girl, who hates being in the car, is quite happy when we're off road. :-) The scenery there is just inexplicable - it's so gorgeous, pictures do it no justice.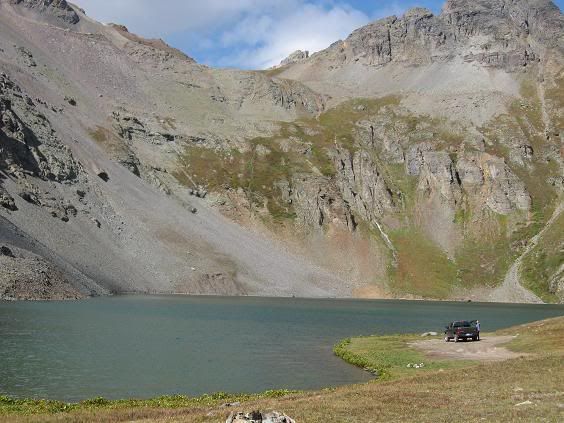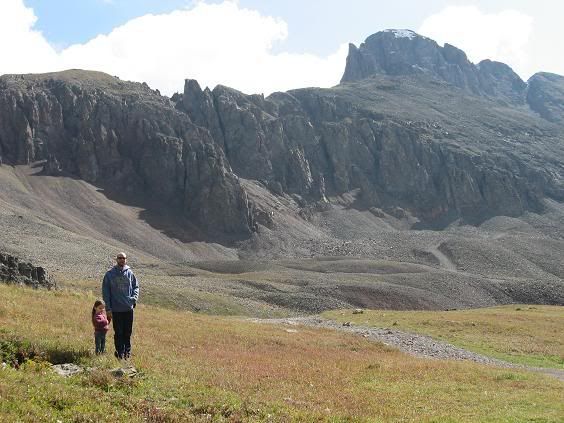 Here's a picture out the windshield of the truck. It's hard to capture just how nerve wracking some of those roads are - high up, steep, rocky, and sheer drop offs on the sides. It's fun, but it gets your heart racing too!
An old abandoned mine - they're everywhere around there, but I find them fascinating nonetheless. The history in that area is so amazing.
Chloe and I did some shopping in town too, they had a store with all kinds of souvenir type things from Africa, Mexico, American Indians, etc. and Chloe was fascinated with it. She ended up picking out a real turtle shell as her souvenir from the trip. I picked out a couple fun things for the house, as well as
Ida: Her Labor of Love
which is turning out to be a great book. It's part true, part fiction, about a woman who lived in this area and the trials and tribulations she endured. I love Western history, and this book is right up my alley.
So anyhow, I guess that's about all for now. I have a couple crafty pics and whatnot to post too, but I'll get that done later.