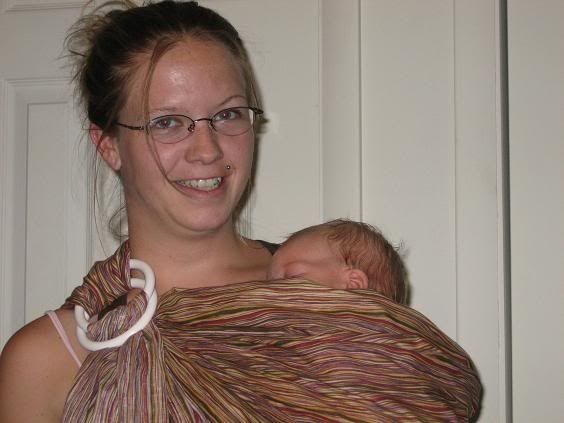 I made another sling. :o) It pleases me. These things are so easy to make. Seriously, it only takes about 15 minutes to throw one together. Andrew was even carrying her around in it last night. Cora is definitely a sling baby.
I also canned pickled jalapenos yesterday. Anyone have any idea what to do with pickled jalapenos? I haven't a clue what I'll do with them, but we have so many jalapenos, I didn't want them to all go bad. So now they are preserved until I find something to do with them.
I also got my new driver's license. What a headache. I was waiting outside the office by 7:30 - they open at 8 - and there was already a line. I got up to the guy, gave him all my info, and then he asked for $21. I'd only taken out $20 from the ATM, so I had to go get another $20 for the extra dollar. I never carry cash, and I'd used the last of my change to pay the parking meter in their parking lot. Argh. I was supposed to go to the Social Security office too. I heard it's worse. I'm waiting till next week. Dealing with one government office per week is plenty for me.
After the driver's license thing, I also went grocery shopping. And I washed diapers. And I managed to sneak in a few rows on Andrew's sweater. When he got home we went to Old Chicago's for a couple beers.
And today? I'm hoping we don't even leave the house, unless it's for a quick trip to the park and even then, we'll just walk. It's been kind of hectic every day this week. I just want to chill out!