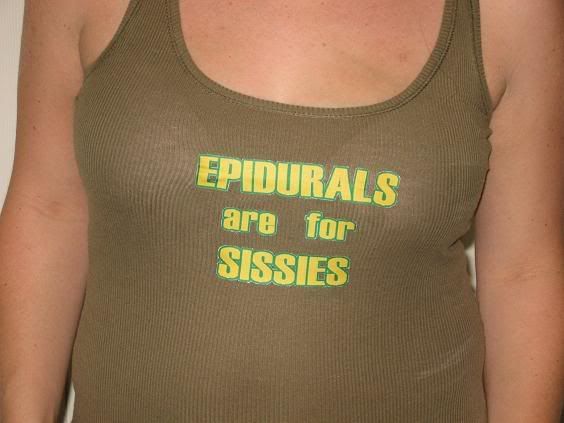 Right after my "I hate snobs" post, I present to you my ultra hippie-snob tank top! I'm utterly in love with it. I think I'll wear it every day.
Made with Avery t-shirt transfer paper, designed in Fireworks. Ironed on to an old tank top.
And I have more transfer paper. What will I make next? :-D
In other crafty news -
I finished the back of Andrew's sweater. I'm about 6" into the front. I think I really like it. It looks a little narrow because the sides roll, having not been blocked yet.
I'm anxious to get this finished, but I ran across the pattern for
these booties
and I do believe Cora needs them. Okay, maybe she doesn't need them, but she definitely *wants them, desperately. In pink and brown with wooden buttons. And so she shall have them, just as soon as I locate some yarn with which to make them. And probably a matching hat.
And then I'll work on Andrew's sweater some more.