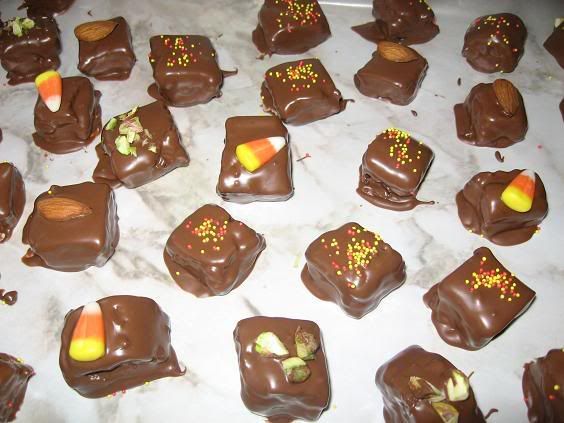 Here's our first experiment from the Taste of Home show. Oh my god, these things are flippin' amazing. Little blobs of chocolatey goodness. They're bite-sized brownies dipped in melted chocolate chips and topped with nuts and candy. I didn't use their recipe - I had a box of brownie mix in the cupboard that I'd picked up for pennies at the store one time, so I just used that. Then you freeze them for about half an hour till they're pretty firm, cut them into bite sized squares. You melt a bag of chocolate chips with a bit of shortening in it to keep it soft and smooth, then dip the brownies in and sprinkle on toppings. We used pistachios, almonds, candy corn and sprinkles. Chloe was my decorator, and she had a blast with it. These are totally a kid friendly project, and they are ridiculously good. Let's just not talk about fat and calories. :-P
So I'm very excited about the fact that we now have friends within walking distance. There's a girl down the street, Sarah, who has three kids, ages 7, 4, and 2. Her four year old, Elizabeth, is the only kid I've ever met that can give Chloe a run for her money as far as energy goes. They play SO good together, and her older daughter plays great with them too. We've gone to the park a few times now and it's just wonderful to watch them. Chloe always talks about Elizabeth, how she's her 'best friend forever'. And I think we go and do enough things now that Chloe's realizing that just because we have to leave doesn't mean we'll never seen anyone ever again, so she's not really throwing fits when we leave places anymore. I'm glad we've found this family - I hope we keep hanging out. It's also nice to have a mama to hang out with once in awhile. I don't really have friends... just my mom. Not that my mom's not great, but it's probably healthy for me to make a few friends that are my age too.
I love Friday and Saturday - they're the two days we don't leave the house much, if at all. It's a chance for us to just relax and hang out. Today I do need to run and return Evan Almighty to Blockbuster, but I want Chloe to watch it first. It's a great family-type flick, and it's full of tons of funny things that include animals, so I know she'll really like it. And she keeps asking me what an ark is, so this should explain it. Other than that, we'll just stay home. I got everything done on my list yesterday (you should see my craft/computer room! It's so clean!) but I still have laundry to fold. I finished the soaker plus one leg cuff, and I'm halfway done with another but I'm out of yarn. I have about 5 rows to go and I'm out of flippin' yarn. Ugh. I'll get more on Tuesday when we go to Michael's again.
I guess that's enough rambling for now. I better get a head start on things while the baby is still asleep!