I went to a yard sale yesterday. I haven't been yard saling in such a long time, but my mom called and told me about one she read in the paper. My mother is a really, really great woman.
Here's a picture of what I bought: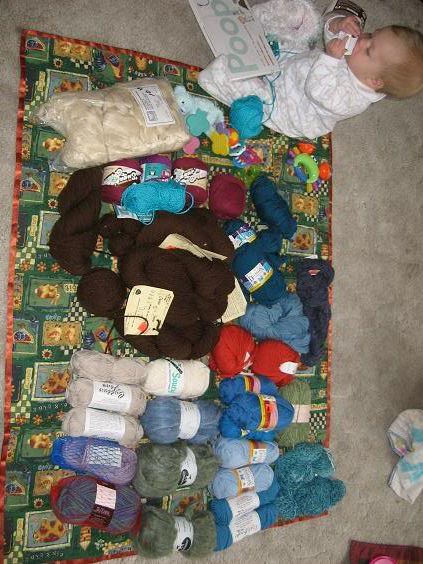 Can you tell what that is from the picture? That is 43 balls, skeins, hanks of yarn and spinning fibers. Holy Crap. What am I gonna do with all this yarn?! Cottons, silks, cashmerino, soy silk chenille, sock yarn, and oodles and oodles of wool! The bag is 16 oz. of hemp top for spinning, plus there are three balls of blues and greens in a merino wool. Included among the balls - a ball of Trekking XXL (something I have been dying to own now for awhile), a skein of Euroflax Originals (a hat, maybe?), lots of Dalegarn by Dale of Norway in different shades of blue - I see something stripey in my future. Ohhhh my goodness. This is so cool. I paid $1 a ball for most of these, .50 for the cottons.
But the yarn isn't even the best part! I got books! I am now the proud owner of Elizabeth Zimmerman's Knitter's Almanac - the coveted, the IMPOSSIBLE to get from the library, the very incredible little bit of gold that is that book. I also got Alice Starmore's Celtic Collection, a reference book of different knitted designs and patterns, a Debbie Bliss pattern book, and "Knitting Lace" - paid $1 each for the books. I've almost read through EZ's book already - it truly is bit of solid gold. I am so thrilled to own it. It was funny, I was reading and knitting in the truck when we went for a drive to look for turkeys yesterday, and Andrew commented on it - pointing out that it was rather interesting. I have knitted and read at the same time for a long time now - I find it utterly relaxing. Anyhow, there comes a point in EZ's book when she talks about how she knits and reads at the same time too. I thought it was funny. :o)
So yeah. Yesterday flippin' rocked. We also went on a drive, as I said, looking for wild turkeys. Andrew really wanted to go scout for turkey season, but wanted to do something with the family too, so that's what we did, and called it a drive. It afforded enough time to finish an entire diaper cover for the baby, though I'm going to rip the ruffles around the legs because I don't love them, and I'll put on a ribbing instead. Anyhow, here's a pic of Gateway, CO when we got out to let the dog stretch.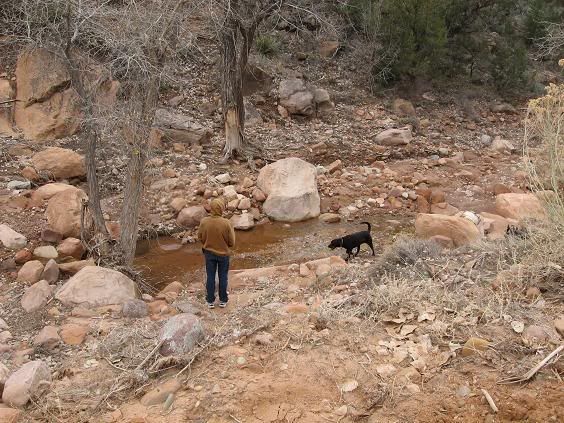 I really enjoy just sitting in the truck, knitting, listening to music, and spending time with my man. :o) and he enjoys driving on creepy, high-up dirt roads, so I guess it works out!