I like sewing so much? Because it's so darn fast! Especially when you're used to knitting, where it takes a week (or six) to make one thing.
Cloth napkins:
One yard of muslin makes 12. I just cut them into squares about 10x10 and hem them. Not much to look at, but they're functional and muslin holds up great. I made these to replace a few that have been lost or eaten by the dog over the past couple of years. Two dozen is usually plenty for our family.
An outfit for Cora: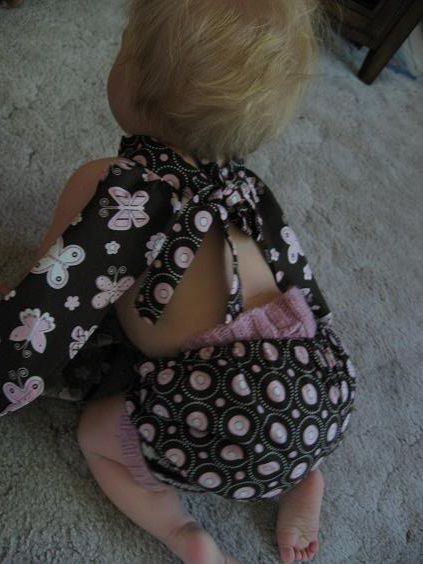 $2/yard fabric from Wal Mart. Love pink and brown together, and love retro prints. Pattern is circa 1977, Simplicity size 1. I wish she needed more clothes. I'd make a million of these. anyone know any little girls in a size 12 months that need clothes? LOL
A grocery bag from the remaining John Deere fabric, scraps of an orangey-yellow and dark green.
That makes 5 cloth bags now. One or two more and I should be able to avoid using any plastic sacks.
Anyone have any suggestions for me on what to use when I scoop out the cat box? Maybe I should keep a few plastic ones around for that chore.
...'Tis all for now!
It's farmer's market night. Looks like it'll just be me and the girls, but we're gonna walk and hopefully have a good time, just the three of us.