Izzy's tumor on her head has about doubled in size, it's all dark purple and oozing still. I've been waiting for 8 o'clock Monday morning since Saturday evening. I'm hoping they'll get her in first thing, and that he can do something. You can feel how swollen it is all around it. I'm having such a hard time with this. She's still acting completely normal - chasing the cat, stealing pizza slices, tearing up tissue paper... I'm so worried about my puppy. :o(
A sweet picture of a girl and her dog:
So the girls and I went to Disneyland yesterday. It was great fun. We went on Small World, the Jungle Cruise, Pirates of the Carribbean, Mr. Toad's Wild Ride, Dumbo... we got to meet Cinderella, and we stopped for strawberry ice cream before we watched the parade.
Here's a picture of Small World:
Even Cora got in on the action:
I couldn't believe how long Chloe played that. She came up with everything on her own. We sat in a laundry basket on the living room floor and she put all her stuffed animals around us. "Off to the right, you'll see a big red and white elephant family. And up ahead is a group of bears. And over to your left, a big, hairy black lab-lion." :o) It was hilarious. When she said we needed to go to the ice cream shop, I played the ice cream man. She thought we were pretending, but I gave her a real bowl of ice cream. She was pretty happy about that since she wasn't expecting it.
Not too many kids get to go to Disneyland for free!
Here's Cora, lounging in her kid-sized recliner. This baby loves this chair. You can set her there and let her watch her sister play and she's happy for the longest time.
And here's a picture of what bathtime looks like these days. Yes, that's shaving cream on the side of the tub - we practice writing words in it.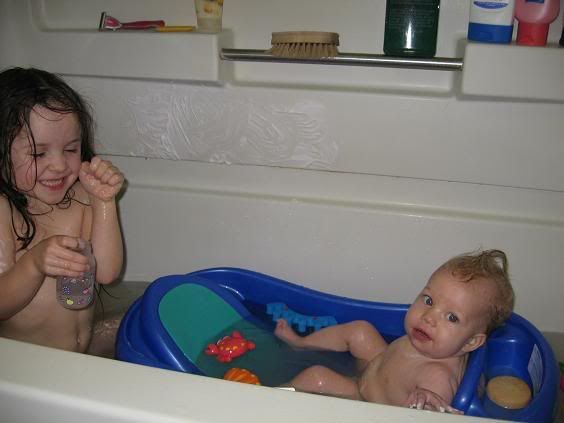 ===
So I finished both sleeves of the
Central Park Hoodie
and am almost done doing all the seams. Now I'll just need to pick up stitches for the hood and then the button-band/ribbing. There's no way this sweater should really take 6 weeks to make, but that's what it is taking me. I can't wait till it's done. The one sleeve that I did finish, when I tried it on, fit perfectly. I've never knit anything bigger than a hat that's fit just right. I'm excited.